27 December 2022:
We so appreciate all of the Cards and gifts we received from you for Christmas. I'm not going to try and list all of the names, however you know who you are and we appreciate you so much!! I think this has been the best Christmas we ever had at Vom Zeder Haus. While we have very little Human Family….. not really, you are Family!! Your gifts are so useful too!! Whereas an AKC breeder is basically a pet shop with a website, VZH functions like a Military base for K9's, much like the Pohranicni Straze in Europe. We begin at 3am here and go non stop until 9pm. We are in the cold, mud, snow, rain and sleet every day. Maybe the coldest of cold is moving in an aluminum boat, on the water, in the pre dawn hours of Winter, which we do. So from the winter clothing, to the high quality nutrition, to the toys that we will use for training and recreation, the hand / feet warmers, gift cards from tractor supply, financial donations to use for our vast overhead, the crate of Blue Dawn we use to bath our 4 legged youngins during the summer, and the boxes of baked beef bones, We appreciate it more than words can say. To those of you who sent Christmas cards, the cards are beautiful and much cherished.
It is actually I who should be sending you gifts !! In the modern World, its becoming so difficult to find good placements for these incredible dogs. Modern people want to cage dogs as they would a Hamster, and so Naive as to allow themselves to be scammed and conned by the American Veterinary system, and thus the bodies of innocent dogs destroyed.
Again, thank you so much for your kindness and generosity !! We love you, hope that God Blesses You, and wish you a happy and prosperous 2023.
-Edward, Jenna, Madelyn, and the entire Pack!!!!

23 November 2022:
Hello, it's been a while since we have posted News, so we have much to say. 2022 has been a very productive year for bringing in new blood from Europe. Aside from our Axa, we have imported three daughters of Ole vom Oseterburg Quell, a daughter of Baron Vom Wackerland, and an incredible young Czech Male that we are currently training. These young dogs carry old Czech / Pohranicini Straze blood , and will be excellent to our breeding program. Of course breeding is only a part of what we do at VZH, we administer European Veterinary Medicine, which is REAL Veterinary medicine, and conduct Research and provide education. Aside from K9 training, we are Behaviorist, Nutritionist, Geneticist, and Gerontologist, all specific to this Breed. We spend hours preparing our Clients for having an Authentic GSD in America, a Country with no Governing body for the reproduction of dogs, and an illegitimate Veterinary system that is driven by greed and stupidity. As a result of the American way, dogs in this Country are plagued with health / behavior / mental and emotional problems. For our Clients who communicate with us, thus brining their health concerns to us, the average lifespan of those dogs is 13.1 years of age. For those who don't communicate, thus exposing their dogs to those who call themselves Veterinarians in this Country, the average lifespan is 7.1 years of age.
Aside from our Thousands of Clients Coast to Coast to whom we provide full time Veterinary services, at any given time we are providing the same to AKC dogs, whose owners have found our website and ask for our help because they GET IT !! At any given time, we are providing the same to Rescue dogs because their owners also GET IT !! We also provide full-time Veterinary Services and consult to numerous Police / Military K9's because their Handlers / Owners are aware of what we do at VZH and ask for our help because again…. they GET IT !! So, when VZH Clients who have read and went thru our Interview / Placement process, and they still can't get it, because of an inability to comprehend what we do at VZH, or poor communication skills, or an inability to escape the Indoctrination placed on them by the American Veterinary system / Big Pharma, or just sheer Stupidity………. You think we are being some harsh here ? We are and it's sincere because it's the 4-LEGGED CHILD, who didn't ask to be placed in such an environment, who SUFFERS in those situations !! Again, we so appreciate our Clients who are responsible enough to have an Authentic GSD in the States, who comprehend the exploitation that plagues dogs in this Country, who can think beyond the narrow road, who communicates with us for concerns, who are in fact not dog owners, but Dog Parents !!
If we have placed a puppy with you during the past 6 months and you have yet to receive your Registration, it's coming. Like many businesses, we've been short staffed since the Covid epidemic, and are behind on paperwork. Expect your Regs by Early December.
Each October we have a Grand event for our Clients, lots of food, lots of Client socialization, events for the dogs, and a Group discussion about the welfare of the Breed, where we share our latest Research, and Clients can contribute or share stories / info about their dogs. If you are a Client who communicates with us, brings your Health / Veterinary concerns to us, and don't make a Victim of your dogs by exposing it to an American Veterinarian, and you haven't been invited….. it's because with Thousands of Clients we can't invite all, however you will be invited and we look forward to seeing you !! God Bless, and Happy Holidays.
– Edward, Jenna, and the pack
25 March 2022: VZH has just acquired one of the top young German Shepherd Dogs in the World. Axa Z Antolovej Luky was born, raised and trained in Europe. With extreme intelligence, instinct and working ambition, she does work on a Police / Military level. Axa is the direct prodigy of the legendary Eqidus female line which over at least the past 60 plus years has produced so many World Class GSD's and Champions. The Eqidus Girls are Axa's Dams and Aunts, however this is only her Dam line. Her Dam Sire is the legendary Chris Spod Lazov, and her Sire the excellent Buster Vom Rhoner Hof. Axa brings legendary blood and working instinct to VZH. She arrived in the U.S. and to VZH on 18 March 2022. She will continue her training here, and become a VZH breeding female within a year. However, first and foremost, Axa, like all VZH dogs, will be our child. Please see Axa on our Dams page as we have videos there of her training in Europe. Thanks for reading — VZH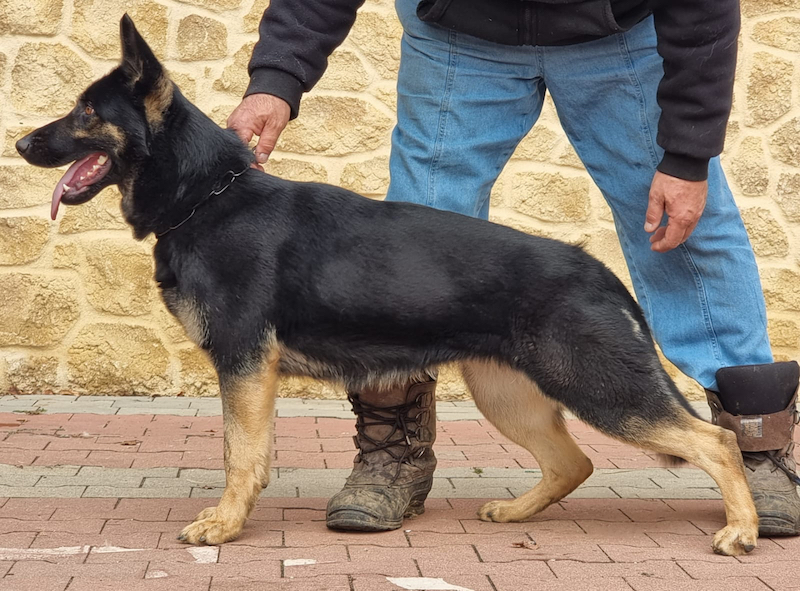 30 November 2021: Todd Yeakle and his daughter, London, own and manage a German Shepherd website called Shepherds Bone, to educate and promote interest in the breed. Edward Denny was recently interviewed by Todd, with the interview being published on the Shepherds Bone website. You can see the interview at the link below. We are sure that Todd and London would appreciate comments about the interview which can be posted on their site. To read Edward Denny's Interview, please visit: https://shepherdsbone.com/vom-zeder-haus-german-shepherds/
22 November 2021: We are disappointed to announce that we will no longer be shipping medications and vaccines. However, we will continue to provide 24/7 Veterinary services and consult to our GSD Parent / Pack members. If vaccines or medications are involved, we will advise on where to obtain those.
Since COVID, VZH, like many Organizations, cannot obtain employees, thus we are having to suspend some of our services, with this being one of them.
Again, we are and will always provide FREE 24/7 Veterinary Consult to all of our Owners, who are following the European protocol for health for your GSD.
— VZH —
5 November 2021: We hope everybody is having a great Fall. Much of our teachings, lectures, and at times rants : – ) here at VZH come from 15- and 20-year studies we conducted involving 1207 German Shepherd Dogs. After several weeks of deciphering hundreds of pages of notes, spread sheets, statistics, and chicken scratch, covered with coffee, food, dog hair, dog teeth marks, and who knows what else, into a readable article, this has been published on this Website. With its own tab at the top of this or any of our website pages, entitled " VZH Research". The results of the studies are extremely eye opening, and makes what we already knew- reality. After you read this article, please send it to EVERY dog owner that you know. Please help VZH in trying to educate the American Public, and thus help not only GSD's, but all dogs.
We have another new page via a link on either our "Home" page, or "About Us" page, entitled " The exploitation of the GSD in America " in which we go deeper with more detail about the exploitation of the GSD. Over the past 31 years, we were prompted to ask over 200 American Veterinarians, three very elementary questions. However, we have never received a valid response to any of those questions, again, over 31 years involving 200+ American Veterinarians.
We have published the details of those exchanges on this page. As mentioned, this is entitled " The exploitation of the GSD in America ", via a link on our Home or About Us pages.
In the coming weeks, we will have new articles published on this Website, entitled " Real Veterinary Medicine ", which will go into detail about Holistic, Organic Veterinary Medicine.
VZH now crosses Male GSD's descending from the former DDR / Pohranicni Straze breeding programs, with West German Females. Another article will be entitled " DDR- the reality, the myth, and the scam by AKC breeders". Another article will be entitled " Where are the Rabies?". So please see our new articles, and watch for these future articles on this Website.
Thanks for reading and God Bless you and your entire Pack,
— Edward VZH —
2021 Annual Owners Appreciation Day
8 July 2021: We are disappointed to announce that our 2021 Owners appreciation day will not occur this year. This is a Grand event and we know that many of you were in anticipation. However as many of our GSD Parent / Pack Members also know, since the COVID situation began, we, like most business have struggled to maintain help here. We are literally going 19 hours a day, 7 days a week, loving every second of it, but unfortunately its not enough. So with the people power and work it takes for the preparation and execution of an event hosting hundreds of people, we just can't do it this year.
For those of you waiting on paperwork / puppy registrations, they will come, we are just so far behind. It has been suggested to us that we stop providing 24/7 Veterinary care and general consultation to our Clients / Owners, which keeps us on the phone and laptop for hours a day. However we will always be available to you at anytime, day or night for your Concerns and Veterinary needs, and always at no cost. If you are an Owner / Client, who communicates with us, brings your dogs health and concern needs to us, provides pictures and updates at least a few times a year, then you were on our guest list for the cancelled event, and you will certainly be invited next year.
May God Bless you all, and thank you for reading.
— Edward VZH —
After three decades of breeding the Authentic European German Shepherd Dog, and thus establishing VZH as one of the leading GSD organizations in the World, 2020 brought a major change to our breeding program, and what we hope will bring a major, and much needed change to German Shepherd reproduction Worldwide. You can read all about this on our new page
VZH breeding initiative.
Just click the tab at the top or any of our website pages.
Thank you and God Bless You!
– Edward and the Pack –