Hello, my name is Edward Denny, I'm the Owner and Manager of Vom Zeder Haus. The truth isn't always pretty, and for most of my life, when the few people who know me well personally would question me about my immense devotion to this breed, why this is all I do 19 hours a day, 7 days a week, with little interest in anything outside of the German Shepherd Dog? Or when people would ask me Why are you not just a Breeder / Trainer, why all of the Research, and work in exposing the exploitation of these dogs? Frankly, I was just too embarrassed and insecure to answer those questions, and would not be completely forthcoming. I had always known that I owed it to this breed to be forthcoming about why, and then thru Professional Therapy, and God showing me the power of "The truth will set you free" I was finally able to be honest about my past, and why I am so involved and devoted to the German Shepherd Dog.
I endure severe Post traumatic stress disorder (PTSD). The events that caused my PTSD occurred over a period of 13 years, early in my life. By the time I was 17 years old, I was a very mentally and emotionally damaged person, and at times homeless during early adulthood. However, God would arrange for me to cross paths with the German Shepherd Dog. These dogs provided the love, devotion, and emotional support that I needed to make something of my life.
As a young adult, I enrolled in College, and it was during my College years that my work for the German Shepherd Breed began regarding Research and Training. While in College, I considered Pre-Veterinary Medicine, however, my study and research in the area of American Veterinary Medicine vs European Veterinary Medicine, taught me that Am. Vet medicine is simply an extension of Big Pharma, driven by greed and about generating money, and not for the welfare of the animal. My interest was, and has always been in organic, holistic Veterinary Medicine, which is real Veterinary Medicine, thus I realized that I would not be able to practice Veterinary Medicine with a license in the United States.
A little over three years after walking onto the Campus, thinking they might laugh me away because of my grades in High School, I graduated with a B.S in Psychology, and a B.S. in Criminal Justice from Union College in Barboursville, Ky.
It was then after College, and after I realized the vast difference between the Authentic German Shepherd Dog in Europe, and the AKC version here in the U.S., that I began breeding these dogs, thus to improve the breed in the U.S. and give American Citizens the opportunity to have the same quality of German Shepherd Dog that is available in Europe. It was also after College that I began to conduct extensive Research, thus covering everything within the German Shepherd Breed, but focusing on Genetics, lineage, health and Veterinary Medicine.
When it became so apparent to me, thus how exploited the German Shepherd Dog is, and how and why the United States is the by far the leader in this Exploitation, I began to expose the Entities that are responsible, so as to create awareness, and to educate the American Public about it. Some call me a Missionary for the German Shepherd Breed, I embrace that title, and while we are importing and producing some of the highest quality German Shepherd dogs and puppies in the World, it is my work thus exposing the Exploitation of this Breed, for which I am most proud. With that being said, please read our page "The Exploitation of the GSD in America". It will enlighten you so much regarding how the AKC, and American Veterinary System are causing so much pain and suffering to dogs in this Country. We also expose German Shepherds.com, the forum, for extremely inappropriate comments being made by some of the Members on that site.
As a now a middle-aged Man, I'm still a very mentally and emotionally scarred person, however I am trying to help a Breed that has helped me so much. To be a voice for these dogs who can feel what is happening to them in this Country but have no voice.
As Parents of four legged Children in the US, it is the same as having two legged children in a 3rd World Country where the Pediatric System is Corrupt, illegitimate and exploiting Children. So we must recognize and overcome this, or our four legged Children will suffer.
Please remember – The truth will set you, I, and the German Shepherd Dog free.
Derived from Biblical verse John 8:32.
Thanks for reading and God Bless You.
– Edward Denny, VZH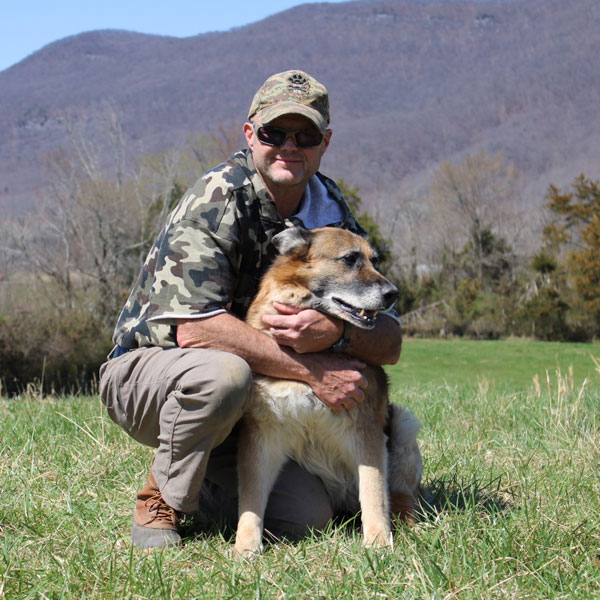 Edward Denny and Gama Lastex. Gama came to the U.S. from Slovakia when she was 2 years old. After a very successful working and breeding career at VZH, she is now retired. Going on 14 years old, Gama is still very active and very much a part of daily VZH activities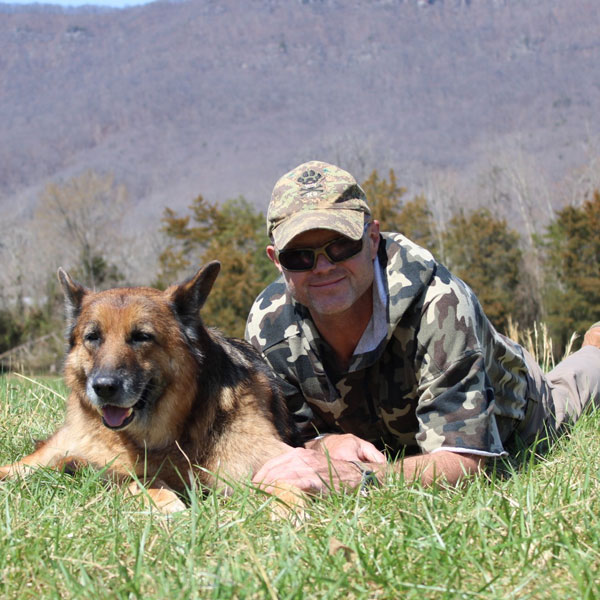 Edward with Ruff VZH. She was born at VZH, and came into this World, not much larger than a hamster, and was given no chance for survival. A few days later, she was found extremely cold and on the verge of death after crawling away from her Momma and litter mates. Ruff was the only puppy to survive in her litter. After a very successful working and breeding career, she is retired, 13 years old, and still very active.